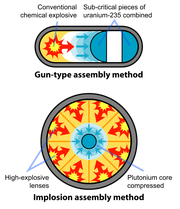 What is it?
Edit
A nuclear weapon is an explosive device that derives its destructive force from nuclear reactions, either fission or a combination of fission and fusion. Both reactions release vast quantities of energy from relatively small amounts of matter; a modern thermonuclear weapon weighing little more than a thousand kilograms can produce an explosion comparable to the detonation of more than a million kilograms of conventional high explosive. Even small nuclear devices can devastate a city. Nuclear weapons are considered weapons of mass destruction, and their use and control has been a major aspect of international policy since their debut.
For more information, go to [1]
Uses of Nukes in Zanpo
Edit
There have been a few instances where nucular weapons were fired in ofence,
New Denmark to Pietopia (destroyed by Pietopia SAM system)
New Denmark to Froggy City (destroyed by Froggy City laser defense grid)
Cities and Countries with Nucular Weapons
Edit
These cities curently have nucular weapons,
Ad blocker interference detected!
Wikia is a free-to-use site that makes money from advertising. We have a modified experience for viewers using ad blockers

Wikia is not accessible if you've made further modifications. Remove the custom ad blocker rule(s) and the page will load as expected.